Authentic Yoga Teacher Training Courses
Learn Yoga from one of the most eminent Registered Yoga School in Rishikesh
Adi Yogpeeth is one of the most prominent and promising yoga school in Rishikesh which masters in certified courses of 100 Hour Yoga Teacher Training in Rishikesh, 200 Hour Yoga Teacher Training in Rishikesh, 300 hour Yoga Teacher Training in Rishikesh and 500 hour Yoga Teacher Training in Rishikesh. Recognized by highest certified bodies, we offer certified courses to every learner pursuing a career in Yoga anywhere in the world. This international recognition s our students to learn and master yoga under eminent yoga teachers with years of practice and experience. We have the yoga teacher trainers, who can guide you systematically through the different phases of learning offering you an in-depth understanding of philosophy and principles of this ancient Indian practice through our multi-style yoga TTC programs in India. Successful completion of any of our Yoga TTC program in India offers you a credible recognition while making your concept clear about various formats of yoga and their benefits. With versatile understanding of various Aasans, Pranayams, Kriya and Sodhan techniques, you can become a transformed person after completing yoga teacher training program with us. Our courses are formulated in line with the guidelines of highest certified bodies to offer you core conceptual clarity about physiology, psychology and philosophy of yoga that has been coined by ancient Indian masters. Join us today for the yoga teacher training programs at the yoga training institution in Rishikesh.
ADI Yogpeeth Mumbai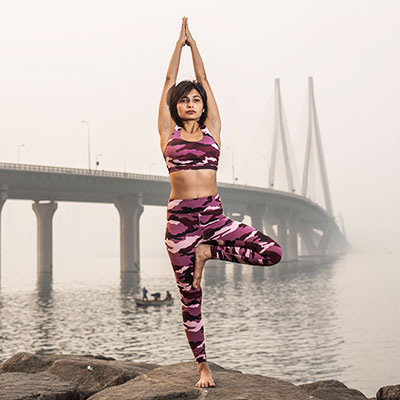 Rupal our head teacher is a yoga teacher, a Callisthenics and Functional trainer, an athlete and a yoga therapist. Her intensive teachers training in Ashtanga Vinayasa Yoga and Hatha Yoga along with a fourteen month internship at the Yoga institute changed her life around three sixty degrees. She started with training people from the Bollywood industry and still does so, but her intent to spread yoga as a way of life never changed. She sees the body as a shrine and yoga as the most earnest prayer. Yoga for her is the only way to develop muscle in our souls. It is the gateway to stability in body and divinity in soul.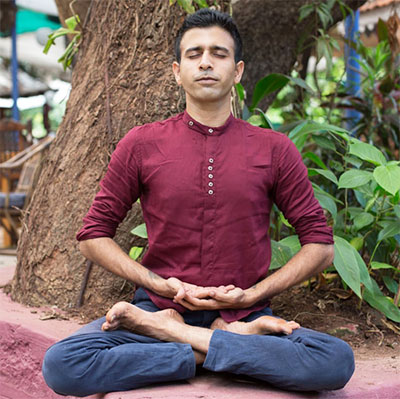 Amogh has practiced yoga on his own for the last 4 years and was teaching yoga for the last 2 years in Delhi & Ladakh. When in Ladakh he got a unique opportunity to train in a monastery. Under the Guidance of his guru Amravatiji. Although he started to follow yoga to be fit and healthy over the years it grew inside him & had him surrender to it to the point that Yoga became him. His aim is to preach this ancient Indian Vedic Philosophy with other individuals so they can outgrow their fears & anxieties & constantly grow through introspection, Thereby giving their to the outside world.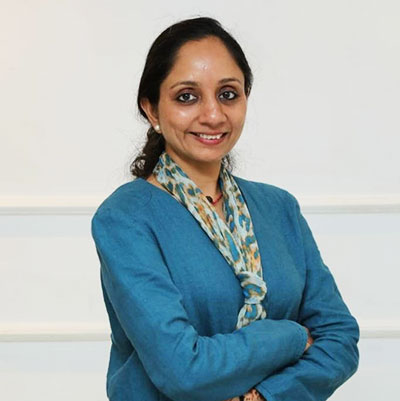 Yogita is a Yoga Teacher who believes in Yoga as way of life and serves her wisdom in Yoga sessions . Believes in power of basics and less is more . She has experienced holistic transformation in her therapeutic Yoga Teacher's Training Program at Sri Sri School Of Yoga(SSSY) , Bangalore . Her 15+yrs of corporate work & experience of being Assistant Yoga Teacher at SSSY has shaped her to the core to serve better to society by means of Yoga & Meditations.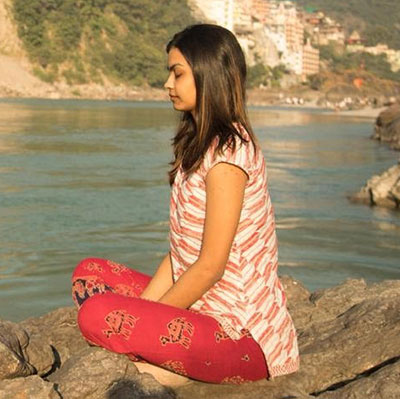 Bijal began her journey into yoga in 2012. She's travelled to several places in India to learn from different masters since then.
She believes in one simple message from her master, "All life is Yoga."
She learns and shares all that she has learnt keeping this message in her heart.
ADI Yogpeeth Rishikesh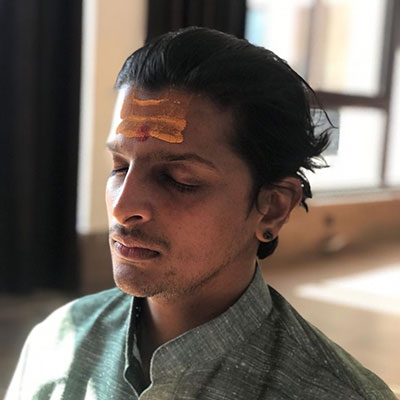 YOGI BHAVESH JI
Yoga Philosophy & Meditation
Bhavesh attributes every aspect of his life to Lord Shiva and his Guru's grace. He is certified by reputed institutions like Kaivalyadhama, Swami Rudradev Yoga Centre and Yoga Alliance(500 hours). Bhavesh also founded a Mumbai based yoga group called Yoga Virtually. He conducted sessions at large corporations like Tata Power, Reliance Group and Gujarat Maritime Board. Bhavesh teaches pranayama, philosophy and meditation. He not only understands the subject matter, but lives it everyday thus imparting true knowledge to his students.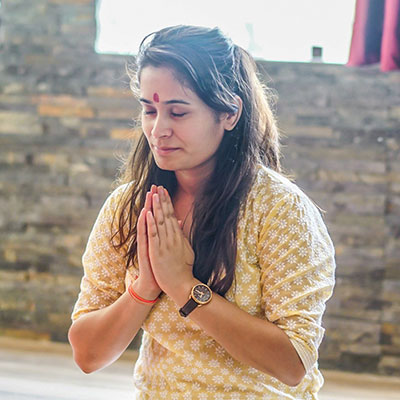 Monicaji and Sumitji are the heart of the school. They are the ones who see to it that not only the school functions smoothly but also every living being under the shelter is taken care if mentally, physically and emotionally.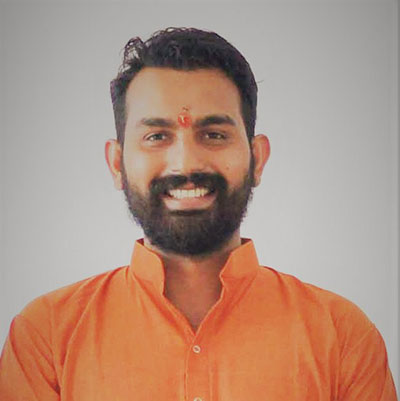 With his roots in the yoga capital, Vishnu began his yoga journey at the age of 18. Over time, his arduous practice and passion for asana developed into a spiritual journey. Vishnu has over two years of teaching experience and has been trained under the proficient Swami Rudradeva Goda. He has also earned a Master's degree in yoga from Uttarakhand Sanskrit University and is certified by the Yoga Alliance for completing his 500 hours teacher training course at Adi Yogpeeth. Adept in Hatha, Ashtanga, Vinyasa and Iyengar styles of yoga, Vishnu also blends in therapy and adjustment / alignment in his classes. He is humble, full of zest and a firm believer of spreading love and light.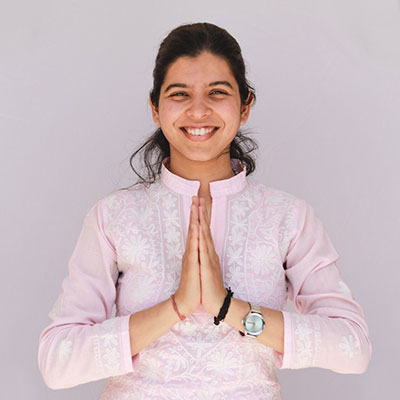 YOGINI PARVEEN SHARMA
Yoga Anatomy
Yogini Parveen is an expert at yogic health, Ayurveda, nutrition and the human body. She is certified by reputed institutions like Dev Sanskriti University and Yoga Alliance. She is adept at the esoteric techniques of pranic healing and energy channelisation. Parveen has also taught yoga in different parts of India to students of varying age groups and treated complex health conditions. She is a bundle of unreserved joy, and is unlikely to be found without a smile on her face. Parveen brings the same energy to the classroom and makes learning fun for her students.
Information About Course
Adiyogpeeth, Bombay is an extension of our school at Rishikesh.
We're really excited about our upcoming yoga teacher training courses. Here's some more information about the TTC.
What you'll learn:
This is an introductory course on the fundamentals of yoga. You'll learn how to practice the essential techniques of asanas and pranayama. We'll be covering different types of meditation, Mantra Chanting, Indian Yoga Philosophy( Vedas, schools of yoga, introduction to Yoga Sutras, The eight limbs of yoga;Ashtangayoga etc), Attitude Training, Lesson Planning, inculcating theory to practical, Pranayamas, Mudra and Kshatkarmas, Yoga Asanas, Ashtangayoga and Hatha Yoga Adjustments and aalignments, yoga therapy Basics and teaching methods as per student it client. What you'll get: A 100 hours Teacher Training Certificate issued by Adi Yogpeeth, one of the finest yoga schools in Rishikesh. Adi Yogpeeth was started with one goal alone – to impart the authentic traditional yoga knowledge.
Excursions: Beach Yoga mornings
Full moon meditation
Singing bowl meditation
Visit to Chinmaya mission
Bhagwad gita recitations
Recreation guests: Mystical story telling session
Body drumming
Dancing etc
Perfect for:
The course is specially designed for beginners and for those who want to get started in their journey as a qualified yoga instructor. It is considered a pre-requisite for future 200 hours and 300 hours courses.
Schedule:
Weekdays    – 12 PM to 4 PM
Wednesday – 7 AM to 11 AM
Weekend     – 10 AM to 6 PM Sundays – Holiday
Location
The Juhu Studio 11, Parna Kutter Rd, Janki Kutir, Juhu Tara, Juhu, Mumbai, Maharashtra 400049
Course Fees : Rs. 20,000 + taxes
Last date for Admissions : 28th Of Every Month
Please let us know if you're interested and we can you with next steps.
Thank you,
Team Adiyogpeeth & Rupal's Yogasthenics (Mumbai)